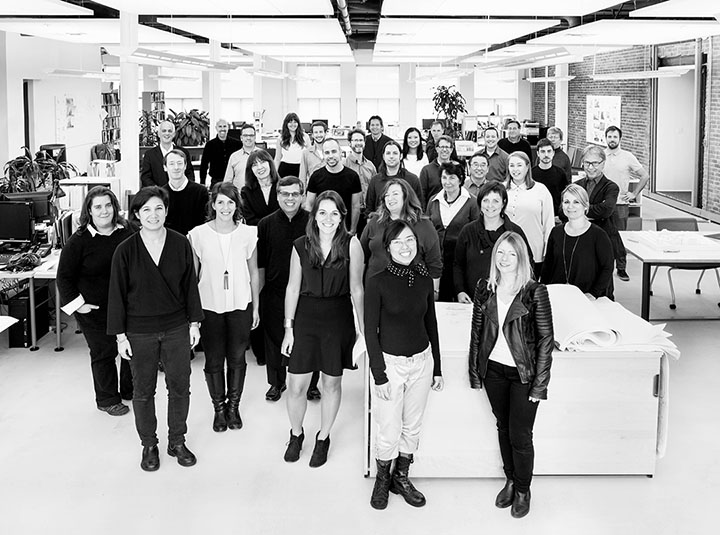 In 1955, six architects with strong personalities and a variety of backgrounds founded the firm of Affleck, Desbarats, Dimakopoulos, Lebensold, Michaud & Sise. For more than 30 years, starting in the 1970s, the firm operated as Arcop, an acronym for Architects in co-partnership. Throughout its long history, the firm has had a strong influence on architecture in Quebec and across Canada.
In 2014, six architecture studios joined forces and pooled their expertise and complementary talents to create a single Canada-wide firm, Architecture49. The new firm combines the experience and reputation of Arcop, AE Consultants, North 46, PBK, Smith Carter and WHW Architects and has over 230 professionals across Canada, from Vancouver to Halifax.
With more than 55 architects and technologists, the Montreal office of Architecture49 stands out for its extensive experience in managing large- and small-scale projects and executing complex projects, particularly in the rehabilitation and reconstruction of large buildings.
Bruno Verenini
Managing Principal
James Bridger
Senior Principal Architect
Isabelle Julien
Senior Principal Architect

Robert LaPierre
Senior Principal Architect, National Sector Leader – Hospitality
Patrice Pichette
Senior Principal Architect
Alexandre Sauvé
Senior Principal Architect

Sophie Lafrenière
Marketing and business development coordinator
Contact
Architecture49 Montreal
1244, Ste-Catherine Street W., 3rd floor
Montréal (Québec)  H3G 1P1
+1 (514) 878-3941
montreal@architecture49.com
Jobs
We are always looking for new talent.
To explore current positions available, please visit Quebec Based Opportunities or please visit National Opportunities.